It has been HOT HOT HOT around this neck of the woods so today's kid's activities was based around staying cool. Ice Cube Painting is a great way to cool off while learning a little about color mixing and art.
I actually got the supplies ready last week for our ice cube painting and waited for the hottest day yet to get the kids to painting! We decided to have a cool snack of ice cool watermelon to start our outside activities and then headed right into painting.
I absolutely love working with watercolor magic when crafting and have found 100's of uses for them. Definitely worth the cost of picking up a few bottles for crafting with your toddler. This is what we used for making the ice cube paints for this project.
Ice Cube Painting
Items Needed:
Ice cube tray
Water
Paper (we used a white poster board since it's such a messy project)
Outside area ( I will tell ya one more time…….it's messy!!)
Rags for wiping up messy hands
Directions:
 You will want to prepare for your ice cube painting project the night before. Take you liquid watercolors and pour enough paint in each ice cube whole with enough paint to cover the bottom of the tray. About 1/4 of an inch will be enough. Use a different color for each hole.
Add water to the watercolor almost to the top of the ice cube tray. Don't overfill or your colors will run together.
Place in the freezer and let freeze overnight.
Gather your supplies for painting and make it outside. This will make a huge mess in the house and actually it is better to play with the ice cold cubes in the heat of the day!
Place your paperwork on a table and place the colored ice cubes on the paper and let them begin to explore.
You can talk about hot and cold and the difference in them and also show them what happens when you mix the colors together.
Some of your kiddos will really like the ice cold cubes and some will shy away. Don't worry there is no wrong way to play with them. Just kick back and enjoy the time with the kids and try and stay cool out there!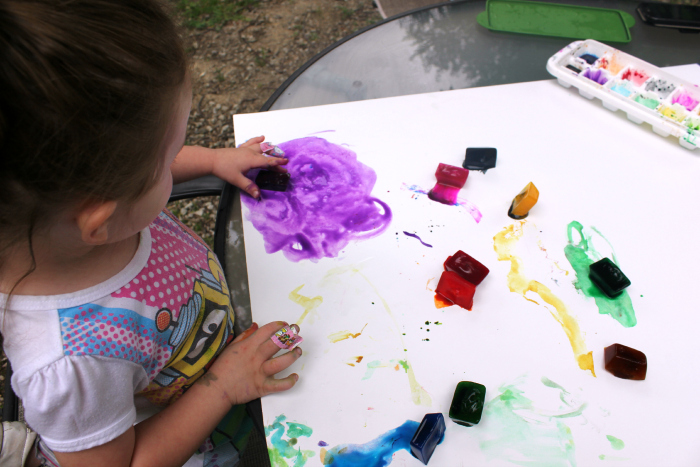 Looking for More Fun Ways to Paint Without a Paintbrush??
Here are Some Awesome Books for More Craft Ideas that I absolutely love!
Art Workshop for Children: How to Foster Original Thinking with more than 25 Process Art Experiences

Art Workshops for Children – The workshops are designed to spark children's imaginations, champion group bonding, and give visually pleasing results – with no artistic ability required.

Paint Lab for Kids: 52 Creative Adventures in Painting and Mixed Media for Budding Artists of All Ages
Enter your email below for more future posts at Domestic Mommyhood! 
This post may contain affiliate links. Your cost is the same, but it helps support the site and keep our freebies FREE! Thanks for your support!