Looking for a cool new Kids Activity to try today?? This one is great for working on small motor development with the smaller ones and plain 'ole creativity with just about any age!!
We used a Pampered Chef pan to hold our paint and it worked out quite well. It was not a cheap pan but we use it all the time(At least once or twice a week). I found a cheaper Nonstick Square Treat Cake Pan on Amazon that would work perfectly.  We love making brownies in it, it makes chewy crispy edges on every piece. Individual Lasagna servings and Chicken Pot Pies are my families favorite recipe that we make in the pan.  Ok…….. enough about the pan.
With summer in full swing and the kids bored out of their mind already we have got plenty of kids activities in the making to share with you. Last weekend we had a cotton ball painting activity that Charlee Ann just loved! I'm a few days late getting it up on the blog for you but we have had a really rough couple weeks with allergies! EEEK! Hopefully, you will already have the supplies sitting around the house so you can have your own painting festival this weekend!
You may also like to try…..
Now, remember when you budding little artist is hard at work try not to fly in and be super mommy and "teach" them how to do it! Get everything set up and let THEM figure out what they want to do. A lot of times we are more worried about them doing their art the way it "should" be done than how they want to do it. Artist don't always stay inside the box……as a matter of fact, a great artist ALWAYS works outside the box!!
The cotton ball painting kids activity was very messy and fun. Which is the best part right? Charlee Ann had a great deal of fun painting her own hand with the cotton balls (she said they tickled). So we spent a great deal of time painting our own hands, each other's hands, and making hand prints on the paper. Giggles were abundant and the whole activity kept her busy for over an hour. We enjoyed ourselves and had a pretty good giggly time!
Don't forget to display your child's artwork proudly and by all means…… Get in there and get to painting yourself! Bonding with the kiddos is the best feeling in the world and they will remember it for the rest of their lives!! Happy painting all!!
Cotton Ball Painting Kids Activity
What you will need:
Paper
Muffin or brownie pan (little bowls would work also)
Kids washable paint
Cotton Balls
Wooden clothes pins (this is not necessary but the kids liked it and it helped keep the mess down)
Directions:
Grab your paint and set it up in your muffin or brownie pan.
Attach wooden clothes pins to your cotton balls.
Set your kids down and let them go at it!!
Did you kids like the activity "Cotton Ball Painting"?? There are plenty of ways to paint without a paintbrush!
You might also like these two articles on Domestic Mommyhood, they are my most popular ones at the moment.  Feel free to stick around as long as you want and check out the blog. If you are New Here check out this page for newbies!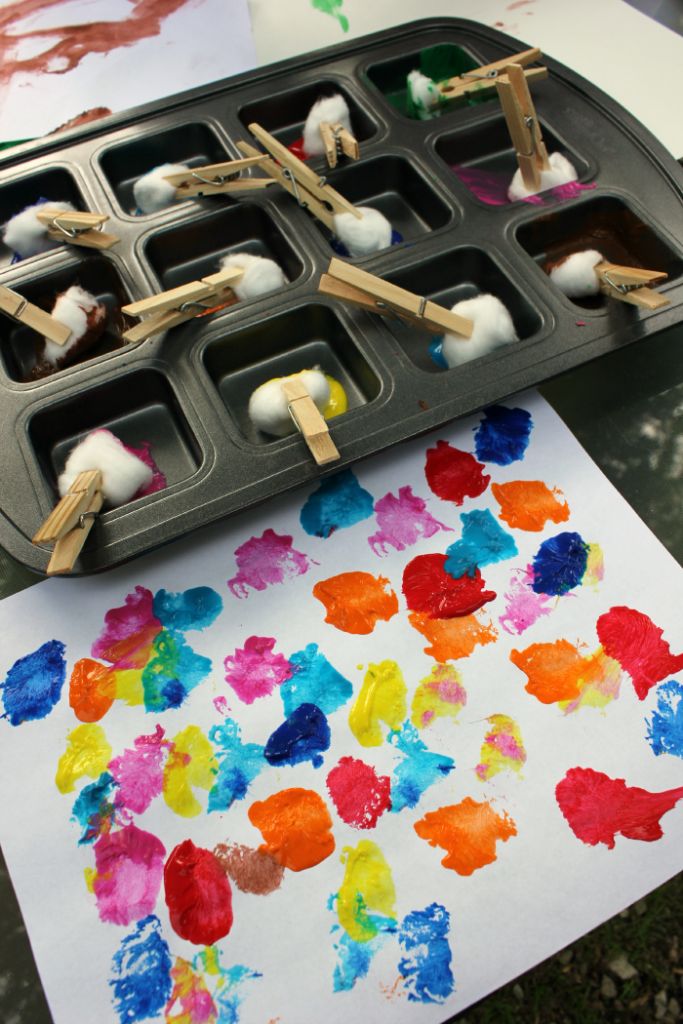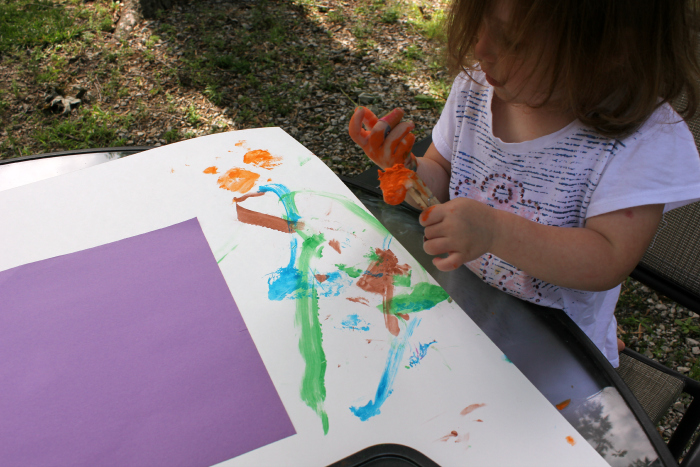 Enter your email below for more future posts at Domestic Mommyhood! 
This post may contain affiliate links. Your cost is the same, but it helps support the site and keep our freebies FREE! Thanks for your support!