For our Easter cooking lesson in the Pre-K classroom we are making these cute and easy Bunny Butt Cookies. We usually try to make things from scratch so that the kids get a math lesson while we are having a blast making our snack for the day. Cooking is a great way for your kids to learn on so many levels and the memories of cooking with mom and dad will stick with them for the rest of their lives and will be something that they pass on to their kids in the future.
So belly up to the kitchen table and lets make some memories with the kiddos making these super cute Bunny Butt Cookies!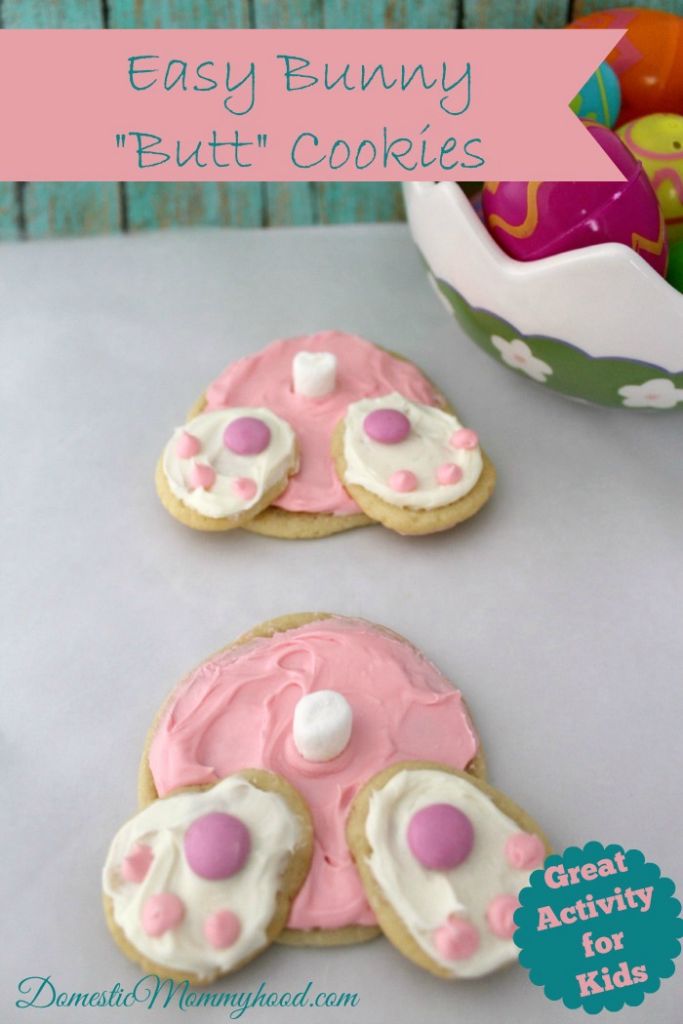 Bunny Butt Cookies Recipe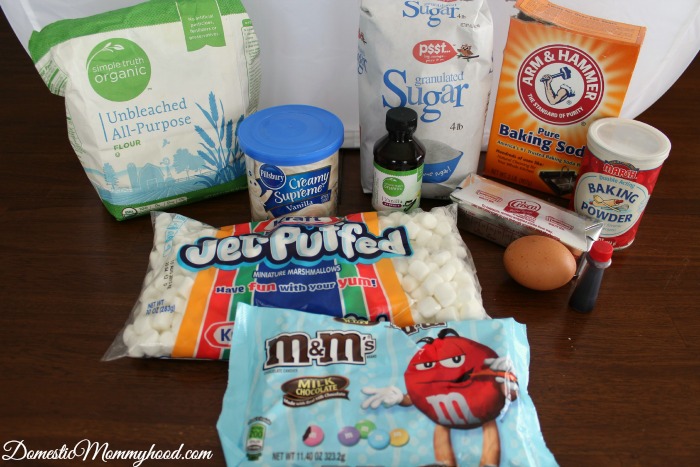 Shopping List:
1 – 1/3 cups + 1 TBLS. all purpose flour
1/2 tsp. baking soda
1/4 tsp. baking powder
1/2 cup butter, softened
3/4 cup white sugar
1/2 egg
1/2 tsp. vanilla extract
Directions:
Pre-heat your oven to 375 degrees F.
In a small bowl, stir together flour, baking soda, and baking powder and set to the side.
In a large bowl cream together with mixer the butter and sugar until smooth. Beat in egg and vanilla and mix well. Begin adding in dry ingredients gradually until blended well.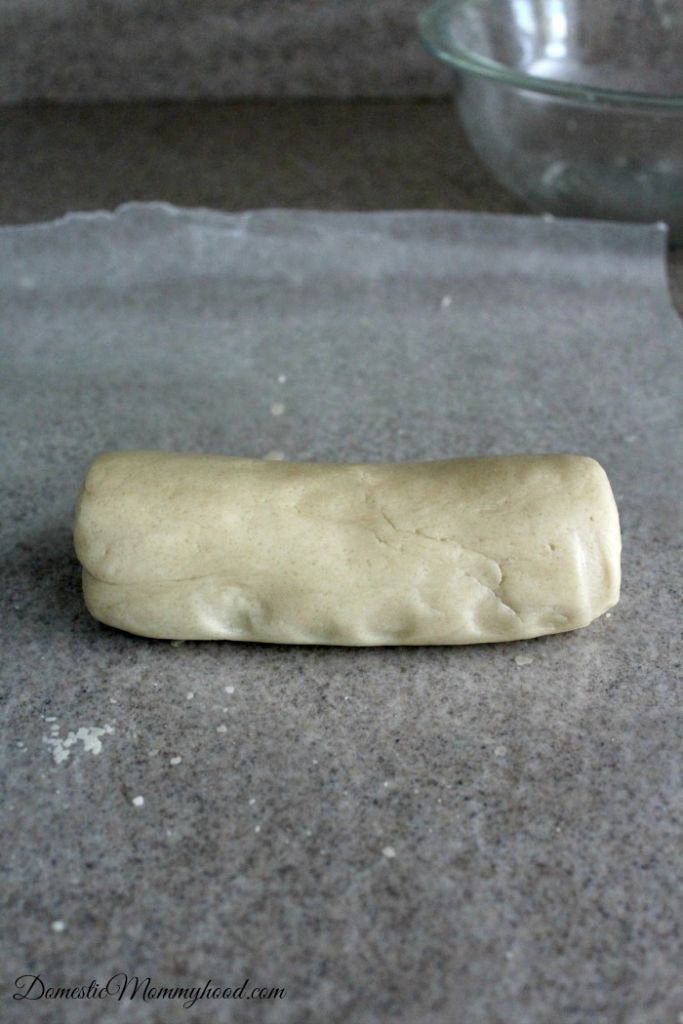 Roll cookie dough into a log that looks just like the ones you buy in the store (or buy one and use it if you are looking for a quick project).
Slice cookie dough into slices about 1/4 inch in thickness. You will keep some slices whole for the bunny "butts" and cut some in quarters (as seen in picture) for the bunny "feet".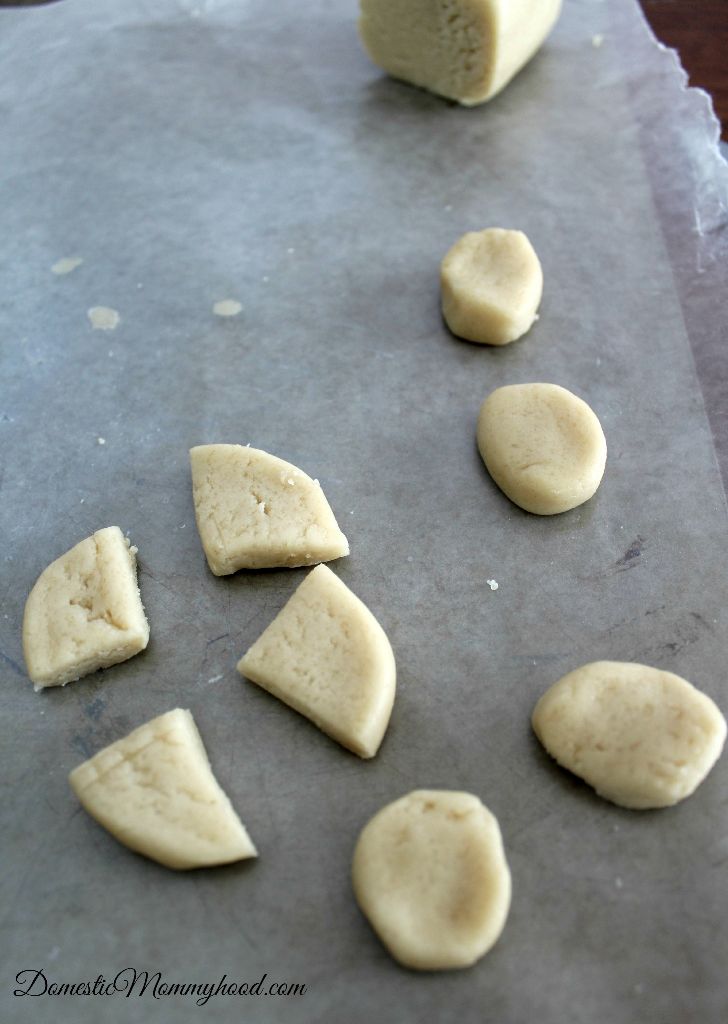 Bake 8 to 10 minutes in your pre-heated oven until golden. Keep an eye on the bunny "feet". I did remove mine a few minutes early since they are smaller.
In a medium microwavable bowl, stir frosting and 1 to 3 drops pink food color gel until well blended.  Microwave on high 10 to 15 seconds until soft. If icing gets translucent looking you have heated it too long so be careful.
To make your easy bunny butt cookies ice 1 whole cookie with the pink frosting. Add 2 bunny feet using some of the frosting like glue. Place the bunny feet on the bottom of cookie as seen in photo.  Place 1 marshmallow in center of each cookie for the tail. Decorate bunny feet with candy sprinkles and frosting.
Enter your email below for more future posts at Domestic Mommyhood! 
This post may contain affiliate links. Your cost is the same, but it helps support the site and keep our freebies FREE! Thanks for your support!