I know you have all made a Coffee Filter Watercolor Butterfly before but have you made a bat?? It is Halloween time you know and we are all about Kids Crafts here at Domestic Mommyhood so we thought why not make some Coffee Filter Watercolor Bats!
Kids Crafts are a great way to spend time with your child and also a great way to decorate your home. It gives them a great boost to their self esteem to see their hard work up on display at home. Working with the watercolors and pipettes are an awesome tool for small motor development.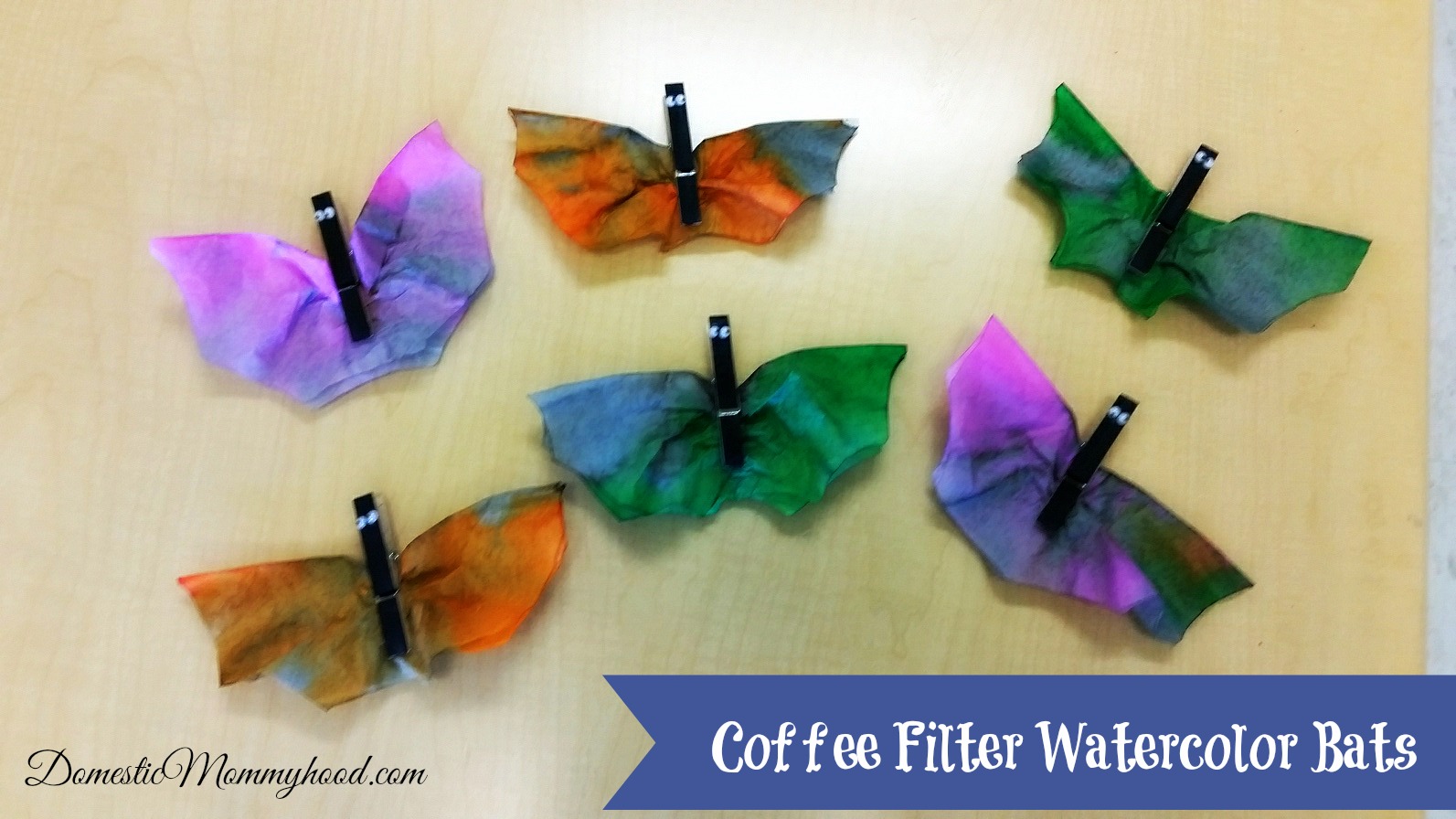 Kids Crafts: Coffee Filter Watercolor Bats
IMPORTANT: The liquid water color that I used is probably different than what you are thinking so you may want to take a look at the liquid watercolor's on Amazon before you head to the store.
You can click here —->>> Liquid Watercolor for Watercolor Bats Kids Crafts
Here is a link to the pipettes on Amazon that were used in this kids craft also.
Both of these items will last for a very long time as you only need to use a little to do loads of kids crafts! They are absolutely great for working on small motor development and the kiddos seem to love them once they figure it out!
Kids Crafts: Coffee Filter Watercolor Bats
Ingredients
Spring Loaded Clothes Pins
Black Paint
Small Kids Paint Brush
Googly Eyes
Coffee Filters
Paper Plates
Liquid Watercolor
Pipettes
Dixie Cups
Instructions
The first thing you will want to do is paint your clothes pin using the black paint and child's paint brush. I find it easier if you just have them paint it on a paper plate and then you can set it aside to dry.
Take another paper plate and set the coffee filter on top of it.Pour a very small amount of the liquid watercolor into a Dixie cup.Do this to a few different colors.
Now have your child squeeze a small amount into the pipette and then dribble it onto the coffee filter. Keep adding colors until your child is happy with how it looks.
One thing that you may notice is your child wants to keep adding colors because using the pipettes is fun! Then your colors will actually start to mix and may even turn black.....which in this case doesn't matter because they are bats!!
Now it's time to let the coffee filter dry overnight. If you have a big puddle of liquid watercolor in your paper plate go ahead and dump the excess into the sink. This will help aid in drying time. I did find that it worked out best if I picked up the coffee filter a couple times while it was drying so it didn't stick to the paper plate.
Once your clothes pin is dry you can add on the googly eyes. Make sure you add them to the end that you pinch when opening it. See the picture for reference.
Once the coffee filter has dried and the clothes pins eyes are dried on then you can assemble.
Fold the coffee filter in half. Then you can either scrunch up the coffee filter or you can fold it like an accordion fan. Either way will work. Then pinch the clothes pin onto the bats "wings" and you done!!
Make sure you display your child's awesome artwork in your home!
http://domesticmommyhood.com/coffee-filter-watercolor-bats/
Here are some other Halloween kids crafts that I'm sure you would enjoy.
My daughters favorite activity around this time of the year is the Pumpkin Oobleck Recipe! She plays with it all the time and if stored correctly it can last for a while. We keep ours in an air tight container but the recipe is so simple that if it does go bad that in it is very easy to make again.
What are your child's favorite Halloween activities?? Please leave a comment below and let me know what you guys enjoy doing!
Enter your email below for more future posts at Domestic Mommyhood! 
This post may contain affiliate links. Your cost is the same, but it helps support the site and keep our freebies FREE! Thanks for your support!