Uses for Tangerine Essential Oil
There are many Uses for Tangerine Essential Oil and it is one of my favorites. It is a less talked about oil but has many uses and the smell is amazing!!
When buying Essential Oil you always want to make sure you purchase a reputable brand. All brands are not created equal and you don't want to spend your hard earned money on some watered down mess.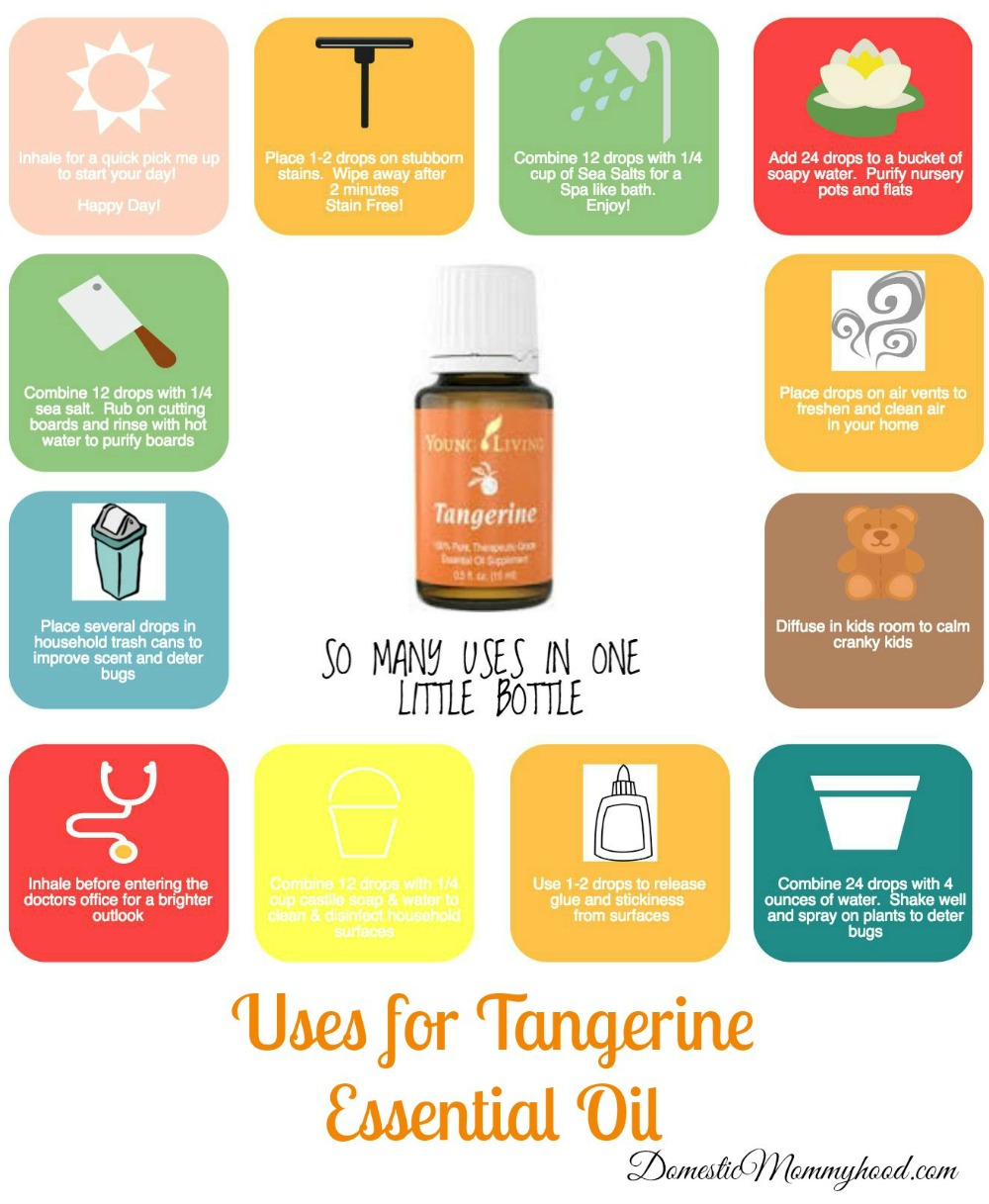 Here are a few brands that I do recommend…
Here are a few more articles you may find interesting…
Now onto the fantastic Uses for Tangerine Essential Oil!
Inhale for a Quick Pick Me Up – The smell of tangerine essential oil is very fresh and uplifting. Dab a bit on a cotton ball and keep it in your purse for a quick sniff throughout the day. It smells refreshing and can brighten your mood and even wake you up a bit.
Use for Stubborn Stains – Place 1-2 drops on stubborn stains. Wipe away after 2 minutes. Repeat for stubborn stains.
Refreshing Bath – Combine 12 drops with 1/4 cup of Sea Salt for a spa like bath!
Gardening – Add 24 drips of tangerine essential to a bucket of soapy water. Use to wipe down your nursery pots and flats.
Purify Cutting Boards – Combine 12 drops with 1/4 sea salt and rub onto cutting boards. Rinse with hot water to purify the board.
Remove Trash Can Odors – Mix 12 drops with warm water and swish around in your trash can. Leave in there for about 30 minutes and rinse. This will help remove the odor and disinfect it. Then every time you change your trash bag, drop 2-3 drops in the bottom to keep it smelling fresh.
Uplift Your Daily Outlook – Tangerine essential oil can really come in handy for uplifting your spirit. Inhale before walking into a Doctor's office or a meeting for a quick uplift to your mood.
Cleaning your Home – Combine 12 drops with 1/4 cup of castile soap and water. It makes a great cleaner for your home and does a great job of disinfecting your household surfaces.
Remove Glue – I don't know how many times I buy a product and there is a sticker that I can remove but the glue underneath is impossible to get off. Use 1-2 drops and rub on top of the sticky mess. It will come off easy as pie!
Bug Deterrent – Bugs just love munching on the leaves of plants. Combine 24 drops with 4 oz. of water. Place in a spray bottle and shake well. Spray on plants to deter bugs.
Diffuse – Tangerine oil is great used in a diffuser. It can help brighten moods and give everyone a pick me up.
Air Freshener – If you don't have a diffuser handy place a few drops onto your air vents to help freshen your home and clean your air.
Enter your email below for more future posts at Domestic Mommyhood! 
This post may contain affiliate links. Your cost is the same, but it helps support the site and keep our freebies FREE! Thanks for your support!